MARQUETTE, MI REAL ESTATE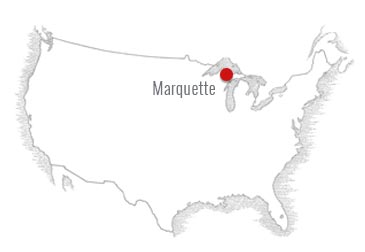 Centrally located in Michigan's Upper Peninsula (commonly known as the U.P.), Marquette is the largest city among its neighboring towns. Dotted with pine, spruce and fir trees, Marquette and the U.P. combine to create a breathtaking forest offering outdoor opportunities abound, friendly folk, natural marvels rare to other places and a pleasant way of life. Marquette sits on the majestic Lake Superior, while other parts of the U.P. border Lake Michigan and Lake Huron. Northern Michigan University hails from the historic city of Marquette and was established in 1899. The iron ore industry plays a large role in local livelihood, present in the U.P. since the 1840s. In addition, arts and culture aren't strangers to this burgeoning community. Unique dining and shopping accompany all other aspects of Marquette and the U.P. to form a quaint, comfortable place to call home. Among numerous awards, "The Best Small Cities in America" of June 2015 features Marquette as #8 out of 1,300 small, American cities. In the "eCities 2014 Four-Star Top Performing Entrepreneurial Community" award, Marquette reigns as the city featuring the best base for entrepreneurial growth and prosperity.
Real estate in Marquette, MI and the surrounding areas offers variety in location and price. The primary quality people seek in searching for real estate in this area is that of the lifestyle; a casual, friendly way of life featuring the admirable four seasons. Ample outdoor, community and service activities take full advantage of this any time of year.
(Various pieces of information courtesy of the City of Marquette and Northern Michigan University.)