Welcome to the Agent Spotlight! Each week, we'll share insight, tips & fun facts from a Select Realty agent. First up, Ms. Breck Tonella.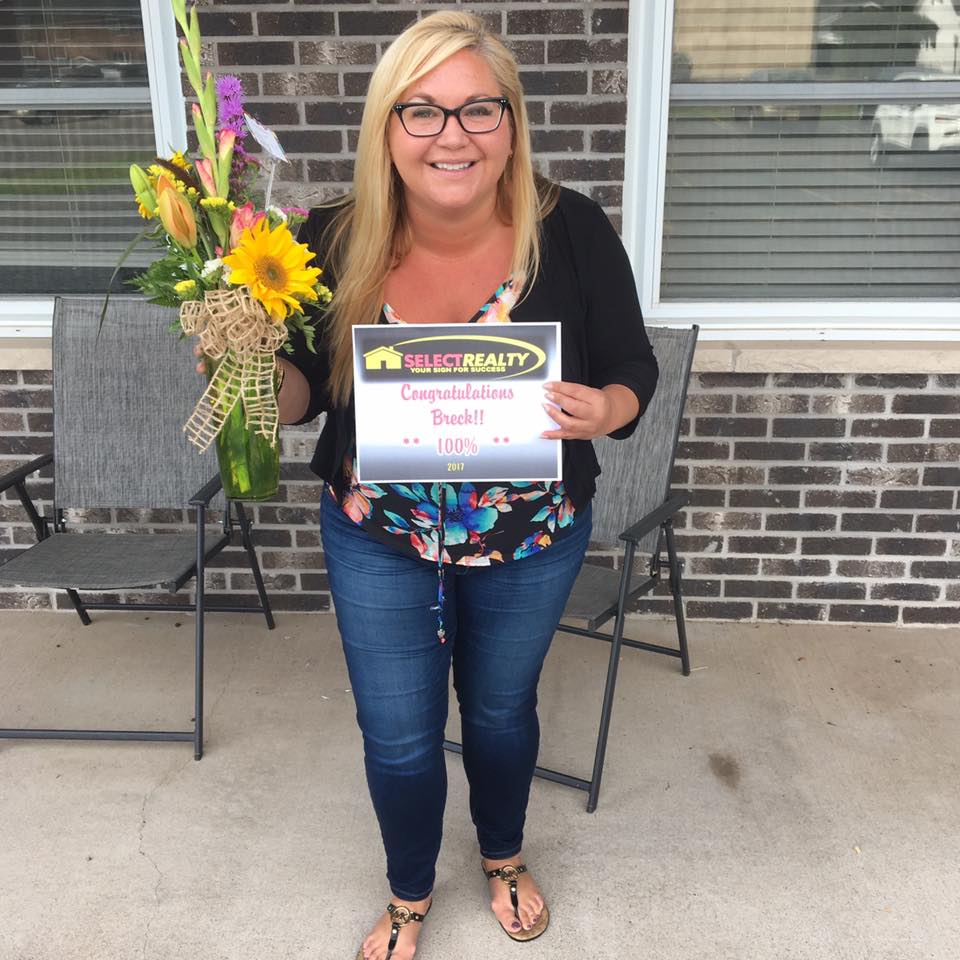 What's the strangest/scariest/funniest thing you've experienced on a showing?
I ran into a stuffed, taxidermy bobcat on a garage floor & screamed! "It was in the position like it was coming towards you!" I "screamed bloody murder" while my client was behind me.
Why did you choose to sell homes?
Working at the front desk at Select for a year peaked my interest in real estate. "I needed something more; I'm a people person, not a desk person!"
What is your favorite thing about working in/ with real estate?
"I love my clients; I have the coolest clients." Making people happy and helping them with one of the biggest purchases of their lives is something I truly enjoy.
What are your hobbies outside of work?
Hanging out with my girlfriends, being with my fiancé Erick and our dogs & walking at the Superior Dome.
Marquette, MI, "The best place on earth."
What's your favorite thing about the U.P.?
"Lake Superior & the four seasons!"
If you could live in any type of home, what would it be?
"A lakefront home, nothing huge, just simple and easy to maintain."
How would you describe your style? For anything and everything?
"Forward chic."
What are the top 3 things/ pieces of advice you'd give your clients, who are either buying or selling?
#1."Call me." #2."Call me again." #3."If you still need more advice, call me again!"
What are a few things people misunderstand about real estate?
"Everything!" People will say things like, "I'm going to do it part time," or "it looks so easy." People ask me, "You must make a lot of money?" and they say, "You make it look so fun and easy!"
What's your favorite type of architecture/ building style or home style/ architecture?
"I love the old 1900 houses with the old wood trim. I grew up on Ridge St. [where there are many historic homes]." I like the French glass doors and old banisters of these timeless homes. I also admire the layouts of 1970s homes, "they have such wonderful vibes."
Are you excited for all of the change and growth in and around the area?
"Absolutely!" Marquette is growing a lot and will support EVERYONE not just [those working in] real estate. "I'd like to see everybody succeed and thrive."
What's beneficial about having your own business?
"I am my own boss, I can work as hard as I want to in order to be the most successful." It's flexible, and I like that I can work from anywhere.
What's something no one knows about you?
"I think I'm pretty much an open book."
What are your future aspirations?
"Being the most successful REALTOR® I can possibly be." I look forward to doing what I'm doing now and becoming a wife!
Anyone or company in particular you enjoy working with through the real estate process?
I take pride in purchasing gifts for closings from local crafters. Utilizing local talent is important.
What's your take on flipping and fixer uppers?
"They're great if you can do majority of the work – that's when you'll profit for resell."
In a perfect world, would you prefer all new construction or old buildings/ homes preserved & renovated?
I prefer preserved and renovated & utilizing things from the past. I've got an old soul.
Any trends worth mentioning – design trends, buying trends, anything?
"Nowadays, especially, the trend is move in ready. People don't want a whole lot of work, people work so much these days, and they just want to enjoy their new home."
What's your competitive edge?
"Being me. Being myself. I'm a forward thinker."
"Karen Nygard, my biggest supporter. She was my #1 cheerleader [when I went on my own]." I wouldn't be here today without her. She's one of the best REALTORS® in Marquette; she's very supportive."
"We are very excited!" December 28, 2018 is the big day. It's a Friday and it'll take place at the Red Room in the Masonic Center. It's a black and gold, nighttime wedding. They're serving cake pops, Vango's and Border Grill (food stations). Stephanie Jones (a fellow agent at Select) is the officiator. The wedding will be very glam and classy. It'll be "just a party" with two signature cocktails.
And…how did you two meet?
I saw Erick at a hockey game and that's when I knew I wanted to marry him!