Our agent in the spotlight this week is Jennifer Cosco. Check out hilarious stories from her many showings & where in the world she's lived!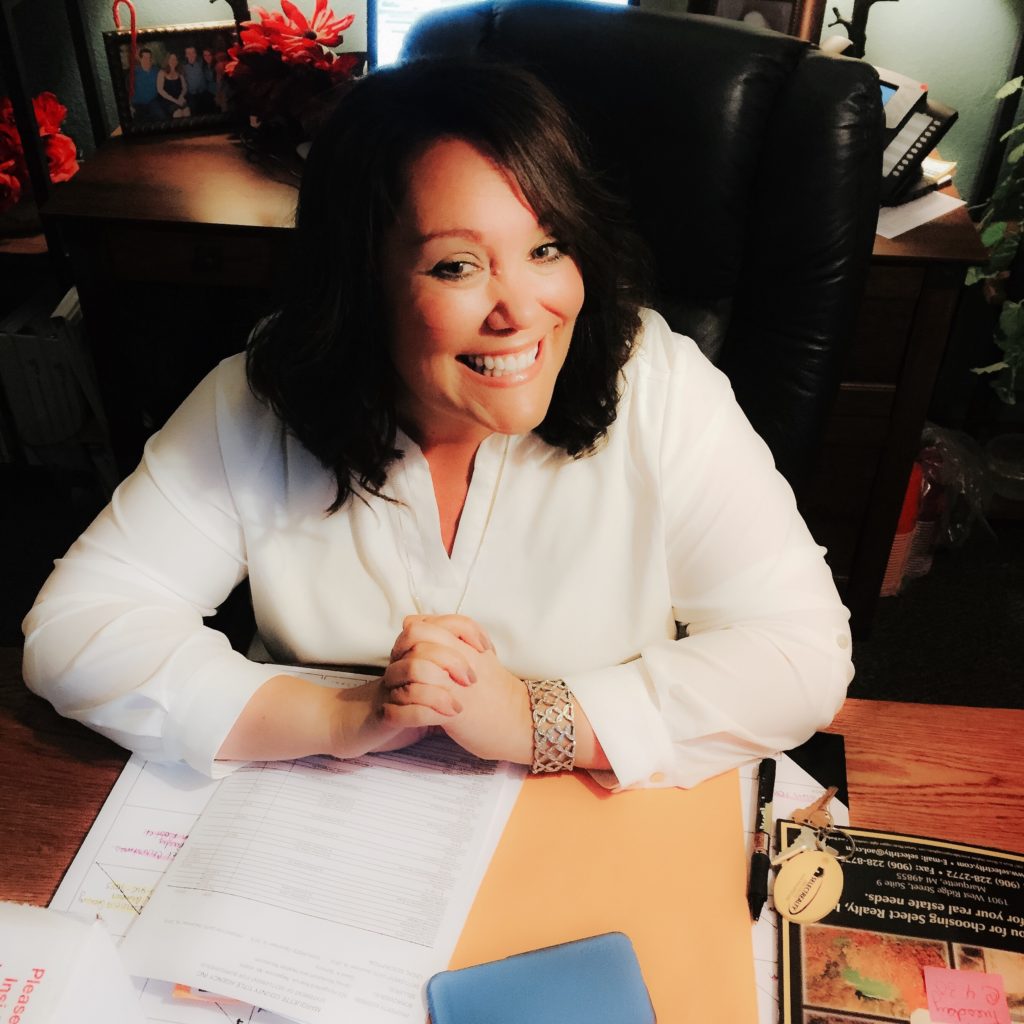 What's the strangest/scariest/funniest thing you've experienced on a showing?
"I have lots of stories!"
"There was a young couple I was working with and the wife feared basements." The husband and I had to go down to make sure the coast was clear before she would come down in every home we saw. We were viewing this particular home and the husband and I went down the stairs to find an empty basement with a casket in it! "Nothing else, just a casket. We just started laughing out loud. The husband called her down anyway. Typical husband. Scared her half to death."
As a REALTOR®, often you're going from one showing to the next, to the next, etc…with little time for bathroom breaks. "I was showing properties all over in Republic and Michigamme. I hadn't stopped in quite a while." It was my last showing and the property was vacant and completely empty. I walked into the last bedroom and there was a life size figure of Anakin Skywalker behind the door. "It scared the heck out of me, I nearly peed my pants! And my clients picked that house (laughing)!"
What is your favorite thing about working in/with real estate?
I also like being my own boss in a career where my success is directly correlated to the amount of work I put in. The harder you work the greater the benefit; I like that. "You are compensated for your work ethic."
This is the big thing…real estate feels to me like an extension of social work (my degree). I've always known that I wanted to help people in my career field. Seeking out the perfect home for a family to live in, celebrate in, support each other in, has a significant impact on a family. I always want to get it right the first time. Think about the Brady Bunch and their house, or the condo on Frasier, or the apartment on Friends, the home becomes a character in the story, I get to help my clients choose that character. It's an honor.
What are your hobbies outside of work?
"I can get lost with my camera and Kirby on a Sunday afternoon-I love photography. That's one of my favorite things to do, hop in the car, and go where the camera takes us. I also love traveling. I try to take one trip a year and just love doing that." I like interior design, reading, movies, walking in the woods or snowshoeing. I love kayaking although I don't get out as much as I used to. I have a hot pink kayak! The one thing you won't find me doing is hanging out much at the bars. It's just not my scene. I'm much more likely to do something outdoors or at home."
Marquette is home, but I've lived all over. "I was born in Frankfurt, Germany, then we moved to Muncie, Indiana. We spent a year in Holland and Italy while my mom was there as an exchange student for her doctorate. After that, we moved to Marquette while my dad moved to Southern California. I spent my winters in Marquette and my summers in California." I also lived in New Jersey as a nanny right after graduation. "I married air force and we moved around (Georgia, Washington)." Eventually, we moved back to Marquette because we wanted to raise Josh here.
What's your favorite thing about the U.P.?
When I moved away from the U.P., the thing I missed the most was the friendliness of a small town and Lake Superior. It felt weird to live somewhere where there wasn't a large body of water. "Also the colors in the fall, the seasons in general. When I lived in Georgia, I missed the seasons."
If you could live in any type of home, what would it be?
"I like small homes with character." That runs a large gamut. "I like homes that feel cozy and comfortable." A 50s bungalow is great or newly built condo, or a turn-of-the-century small Victorian! "It has more to do with the character and feel of a home than its architectural style."
How would you describe your style? For anything and everything?
Where interior design is concerned, "eclectic – farm house, natural décor, whimsy, boho chic, lots of books, photographs, natural textures in pillows and throws and wooden accents, comfortable furniture, a fireplace. I love a cozy, eclectic, look."
What are the top 3 things/ pieces of advice you'd give your clients, who are either buying or selling?
"1. When hiring a REALTOR®, do your homework. Use a local agent who is familiar with the local market. Who is successful? Who has the best/most reviews? Who have your friends and family used recently? Is the agent part time or full time? Will you deal with them or their assistant? Do they work evenings and weekends? Do they take frequent vacations? As a seller's agent how do they market homes? Do they stage? Do they use a professional photographer? As a buyer's agent, what are their strengths in negotiations? Not all real estate agents are created equal, just like any other career field."
"2. Meet with your banker for pre-approval and have a firm understanding of what loan product they've used to pre-approve you." Different loan types have different requirements with regards to the home.
"3. As hard as it is, try not to allow emotions to play a huge part in making decisions about buying or selling a home. Sellers often feel that their home is worth more than the market value is because its their home." But rely on the expertise of your agent. Same holds true for buyers. Buyers can often fall in LOVE with a home. "But rely on the expertise of your agent, to structure an offer that makes good sense based on the market."
What's the hardest deal you've had?
There was a property in which the time frame to close lasted from June 2015 to December of 2016. "It was a bank owned property (a foreclosure)." It was unique. It took a year and a half, but "in the end, my buyer got the property and was very pleased with the outcome."
Any special neighborhood stories you want to share?
I grew up on Lakewood Lane from 1977 to 1987. It was a very different time then. Our parents told us to come home before dark (which in the summer is LATE). We would ride bikes, play on the beach, build forts in the woods, cross the highway to buy penny candy at the party store, play Space Invaders and Pac Man at the pizza place, play lawn darts in each other's yards. Nowadays parents would worry that we would get hit by car or impale each other with darts (laughing). It was a simpler time then. We were permitted to be much more independent in those days. Two of those friends that I did all that with have sold or purchased homes with me recently. [Everything comes] full circle.
What's your favorite type of architecture/building style or home style/architecture?
"I have a grand Victorian listed now, on Hewitt Street, built in the 1890s. It has all the original woodwork; plaster carvings around all the rooms, hand-carved banisters, ornate doorknobs, leaded stained glass. I have a real appreciation for how homes were built in that era. I really respect the quality and craftsmanship."
Which building do you think is the oldest in Marquette?
The Village of Marquette (formed in 1850) would've been centered around the mining and waterfront (would've started on the eastside and in south Marquette). There are two homes I have listed now, both built in the 1890s (the one on Hewitt Street and one on Jackson Street).
Are you excited for all of the change and growth in and around the area?
"Yes. I think it benefits everyone as long as we keep the integrity of our town." I don't think tons of big box stores are necessarily the right kind of growth, however, I like encouraging entrepreneurship. I like how we've grown so far. "We've been slow and steady and I appreciate that." I'm all for growth if we can keep our city's character.
What's beneficial about having your own business?
"I like the idea that in owning my own business I get to create a business plan that is centered around the things that are most important to me. My business, from my logo, to my tagline, to dealings with my clients, is based on caring about my clients and helping them to obtain their goals. 'Your home is where my heart is,' (my tagline)…the REALTOR® with heart. I want people to feel like I care where they end up living and want to ensure they're happy with their choice."
What's something no one knows about you?
People get shocked that I was as shy that I was as a child. "I was horribly shy, it hurt! I was also horribly scared of dogs!" Both shock people because I'm outgoing now and bring Kirby with me wherever I go. "Is that a boring answer? Ha! Hmmm…" When I lived in New Jersey, I dated an NFL player. He was the all-time leading receiver for the New York Jets at the time.
What are your future aspirations?
"When I retire I want to travel…a lot!" I love different cultures, seeing different locations. Marquette will always be my home base though. "The more I go [travel once/year today], the more I want to go."
Anyone or company in particular you enjoy working with through the real estate process?
I really enjoy working with everyone. I get excited to go to the title companies. I've worked with the title reps since back in 2001 when I did mortgages. They are like old friends. That goes for appraisers, bankers, etc…too. I want to make sure they enjoy working with me too. "You want a good rapport with everyone you encounter in business. Humor is huge, especially when things don't go as planned!"
What's your take on flipping and fixer uppers?
"I think in Marquette it's a difficult market to do a flip. You must do most of the labor yourself in order to turn a profit. With capital gains, it's best if you can live in the house, work on it, live in it long enough to avoid capital gains and then sell it.
In a perfect world, would you prefer all new construction or old buildings/ homes preserved & renovated?
"I love homes, just like my car says. I worked for Sunrise Builders for a while and gained an appreciation for new construction and the modern conveniences that new construction can offer. However, I love the character of an old Victorian or a 50s bungalow."
What are some current issues in the real estate world?
"Right now, there are 3 issues: inventory, inventory & inventory!" There're lots of buyers, but not enough sellers, in Marquette specifically. Especially when it comes to first time homebuyer homes/ starter homes.
Any trends worth mentioning- design trends, buying trends, anything?
In terms of new construction and in terms of demand in our market: because the baby boomer generation is aging, ranch style homes with no basement are becoming a very popular choice for people in our area. That's never been popular in our area. "We've always been a culture (Yooper/ U.P. culture) that has loved our basements for rec. rooms/ family rooms. People need to be able to age in place with very little steps and low maintenance living [today]." We need more like this, more homes built on concrete slabs.
"When you're a buyer, choosing a buyer's agent that you trust ensures you will have a fiduciary that will learn what your preferences are and what your priorities are in order to find the right property and then will guide you through the purchase process. As a seller, many people think that selling their home is as easy as listing their car for sale on Craigslist. Having sold 130 homes in the last two years or so I can tell you, there are many issues that can come up in a transaction from the time you receive a purchase agreement to the time you close." Having an expert by your side is the smart thing to do.
What's your competitive edge?
I'm constantly re-evaluating what changes are taking place in terms of marketing homes. "As an agent you have to keep up on what the current trends are to serve your client well." I'm also constantly looking at market trends such as list to sales price ratios, average cost per square foot, etc…so that I am advising my clients with the best and most current info.
What's a myth about real estate?
"A lot of people are under the impression that REALTORS® make some kind of salary or hourly wage." For most REALTORS®, it's 100% commission based. You only get paid if you have a closing. You split your commission check with your brokerage (it's also split when a transaction has two agents, one as the listing agent and the other as the buyer's agent).
Maya Angelou, Oprah, my mom. "I like strong, capable women. Who are both confident & caring."
What's your mission statement?
"My clients goal is my goal."
Who serves the best food in town?
I love Lagniappe, The Marq, Steinhaus. I love mom and pop shops too. A&M Café breakfasts are great, The Flying Moose Buddha Bowls are good too. I love privately owned, local restaurants. New York Deli soup! Joe's Cakes! I love them. "…Ok, let me stop!"
What is the one thing you'd like to make your mark on in the real estate world?
"I just don't think of it in that way." I think of it as leaving the mark on my clients' lives…you know, finding them that 'character' in their life story. I want to fit them to their home. I don't think of leaving a mark in a grandiose way. It's one client at a time.
What's your favorite company/ business/ organization in town or nearby? Why?
"I just love small business." I love entrepreneurship, when people are brave enough and creative enough to make their own businesses work.