Paul Wolfson is under the spotlight this week! Check out the interview and see what this once co-owner of Select Realty has to say about John Glenn going into space.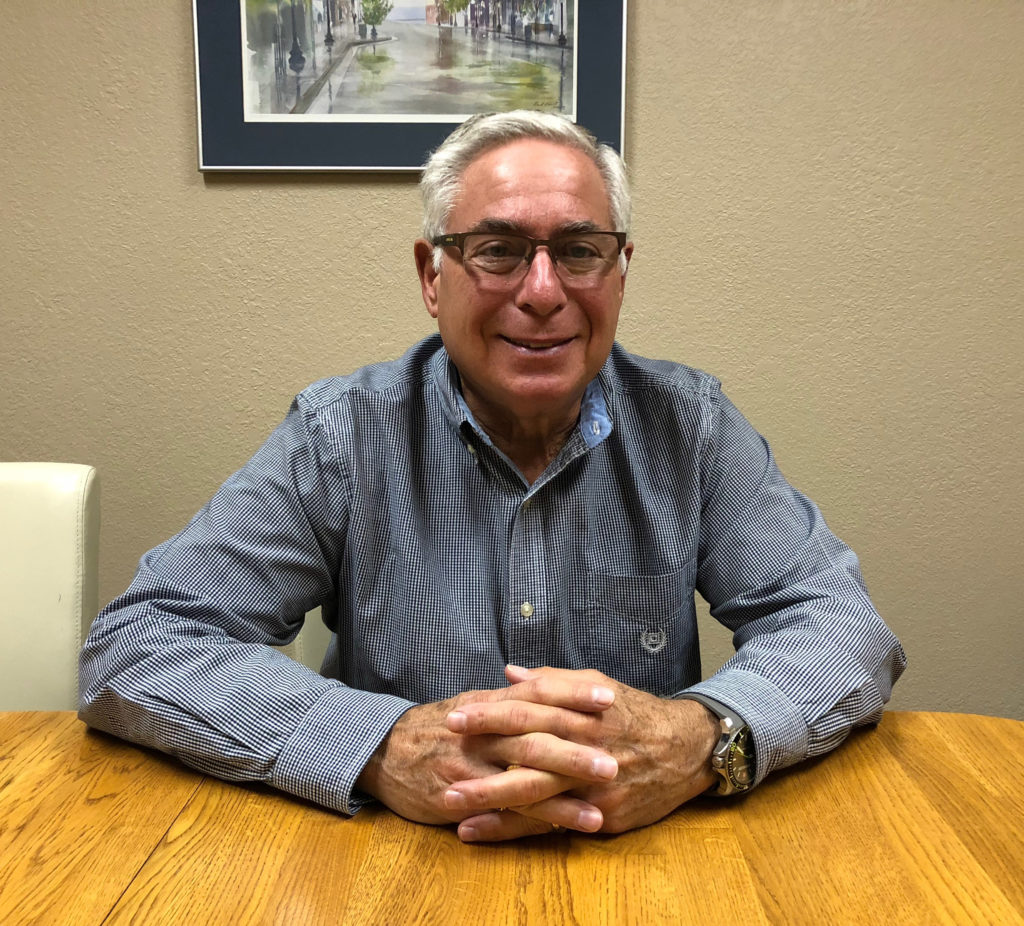 What's the strangest/scariest/funniest thing you've experienced on a showing?
One day, I was in National Mine appraising a house. "I saw an envelope on the table with a different name on it…I was in the wrong house!" "It was open!" So, I didn't have trouble getting inside. There were no numbers on the outside of the house to indicate which one it was.
Why did you choose to sell homes?
"It's all because of my wife (Susie); it's all her fault." There was an ad in the Mining Journal back in 1977. It was an ad for a real estate licensing class (Holloways). "I took it [the class], my wife said I would be good at that." I got my license in 1978 and that's when I started.
What is your favorite thing about working in/with real estate?
"Diversity of homes, diversity of people. Personalities of people. Having to adjust your personality with theirs."
What are your hobbies outside of work?
"Having a camp for 18 years. Putzing around doing remodeling, living on the Basin. Golf was never my thing." I go to deer camp once a year, but I'm not a hunter! "I'm there for the camaraderie."
Born in Brooklyn, NY, New York City & raised in Queens. "I was in the Air Force from March 1968 to January 1972. I met Susie during that time." I was stationed at K.I. Sawyer Air Force Base. Susie is from Ishpeming; I met her when I came to K.I. Sawyer.
What's your favorite thing about the U.P.?
"Quality of life. Quality of people. Not the quality of weather!"
If you could live in any type of home, what would it be?
"The one I'm living in right now – my dream home!" Which happens to be a house on the Basin. "I'm living in it now!"
How would you describe your style? For anything and everything?
"I pick out my own clothes, I like to be on top of style."
As far as work goes, I enjoy working with older people going into assisted living over the years or leaving their home. Additionally, "I enjoy working with first time home buyers."
What are the top 3 things/ pieces of advice you'd give your clients, who are either buying or selling?
Buyers: Get pre-qualified. Also, "I always read Purchase Agreements and Listing Agreements verbatim." I was in the cusp of agency (seller's, buyer's & dual agency) when it first came about. "You have to know your agency." Otherwise, you may not be properly protecting yourself or the brokerage.
Sellers: "Try and price a house properly." There has always been this fallacy: sellers think their house is worth about 20% more than it's actual worth. "You have to back up your information when putting a price on a home." Have documentation, by way of careful market analysis (comparative market analysis or CMA).
What's the hardest deal you've had?
"When there was a fire in a house prior to closing. An older lady owned it. It took many additional months to close the sale. The fire was suspicious." I was called by the fire department and everything else. Surveys were done. It was a rough situation.
What are a few things people misunderstand about real estate?
"Buying and selling a house is not an easy task." Prepare the sellers with an estimate of their expenses so there's no surprises. Absolutely making sure your buyer is pre-qualified before you start showing houses. "A pre-qualification letter from a lender is one of the best things to attach to a Purchase Agreement."
It's nice when buyers go to a local lending institution. We know what to expect with our local lenders. I'm not saying there aren't good mortgage companies outside the local area, but we work with local lenders and are familiar with them.
Any special neighborhood stories you want to share?
I started off (selling real estate) in Ishpeming in 1978. I've sold the same houses over the past 40 years for $40,000 and then for over $100.000. It's amazing what 40 years of appreciation can do! Not to mention how the market is constantly changing.
What's your favorite type of architecture/building style or home style/architecture?
"Any style." I do like traditional style homes. If I was back in NYC, my favorite would probably be a Tudor.
Which building do you think is the oldest in Marquette?
In Marquette County: The Nardi Building (a building on Main St. I sold a few years back). "It has got to be the oldest one." They're using historical Brownfield funds to help restore it.
Are you excited for all of the change and growth in and around the area?
"Yes I am. I think it's wonderful to see the local area blossoming & to see Select also blossoming."
What's beneficial about having your own business?
"It's not easy having your own business. I've had several businesses." Being in sales you have to make sure to set up your quarterly tax payments. It can come back and bite you if you don't. Real estate, like any other business has its 'peaks and valleys.' "It can be rewarding, but the real estate business has definitely changed over the years."
Explain how the business is different now then in 1978.
It's changed like from John Glenn going into orbit for the first time, up in space. Today, we've come so far and we've got space stations, etc… John Glenn going into space was a big deal! This is a good way to put it into perspective. Selling real estate has come a long way! What we can do with technology is amazing. MLS information used to come to the office in printed books. Now we have the internet!
So, if you had to do it all over again, would you?
Meeting people and making friends and acquaintances for life is one of the best memories & ongoing experiences I've gained from ownership and working with Select.
"I used to have a Realty World franchise." I became an owner of Select Realty in 1987. We merged Real Estate One & Realty World and then joined Select Realty. Before that, I purchased Iron Realty of Marquette from Dupras Racine Realty within 2 years after getting my license. I worked under Dupras Racine until I purchased Iron Realty. We had offices in Ishpeming and in Marquette. At that point, the business was called Realty World Iron Realty. Also, I used to have an office where the old C21 location is (in the building with Jasmine off of US 41).
What's something no one knows about you?
"No one will ever know." I do like to cook!
What are your future aspirations?
"Well, my future aspirations will be retirement. Retirement, meaning full retirement! If I can cut the cord."
What's the most common issue or problem you face or come across as a real estate agent?
"Unexpected financing glitches, unexpected results from a home inspection, unexpected appraisal issues."
Anyone or company in particular you enjoy working with through the real estate process?
"Being in the real estate business, you have to try to get along with your peers and coworkers. Cooperation." Abide by the REALTOR® Code of Ethics.
What's your take on flipping and fixer uppers?
"Tried it once." Not interested to do it again. I've dealt with a lot of people who like to do that. I've sold a lot of foreclosures too. "If you have the time to do them, it's wonderful." Resources are key.
In a perfect world, would you prefer all new construction or old buildings/ homes preserved & renovated?
"To me, it makes no difference."
What are some current issues in the real estate world?
There's more buyers than there are sellers. There's more people looking to buy then there is product. "Especially in the Marquette area." It's not a surprise with all the construction going on in Marquette County.
"REALTORS® are professional, they'll guide buyers in the home buying process. And guide sellers in the selling process."
What's your competitive edge?
"My competitive edge has changed over the years. My competitive edge is changing with the times!" Technology is huge.
What's a myth about real estate?
"That it's 'easy money.'"
All of the REALTORS® making a decent living in the real estate business. That's really the key to being in business. Seeing the time that people are putting into the business and their individual businesses is great. "Today, it's more time than I'm willing to spend!"
What's your mission statement?
"Honesty is the best policy. Honesty is the only policy."
Who serves the best food in town?
"I'm not that fussy when it comes to food." I like a good burger.
What is the one thing you'd like to make your mark on in the real estate world?
I did what I had to do to take care of my clients," whether is was on a holiday or whatever else. "When buyers are ready, you have to be ready." It's like a lifestyle.
What's your favorite company/ business/ organization in town or nearby? Why?
I was a rotarian for 30 years in the Ishpeming Rotary Club. I was given an honorary Paul Harris Fellow Award.